DryBar Comes to Indianapolis, Indiana!
This is a sponsored post. All opinions and images are my own.
DryBar Recently Opened in Indianapolis by the Fashion Mall and their Inclusive Approach has me intrigued...
Getting your hair done at a salon is a girl's dream. Complete with mimosas and Top 40 hits, there's no was you can sit in the stylist chair without feeling glamorous. That is, unless you have unruly hair that even YOU struggle to style. I get it babe. Insert the bright yellow cheery environment that is Drybar, the new blowout specialty salon located right here in the heart of Indianapolis! Situated in the perfect spot across from the Fashion Mall, Drybar's claim to fame is simple: No cuts. No color. Just blowouts. Starting at just $35 for children and $45 for adults, again...I was intrigued and had one question.
Does DryBar cater to all hair types?
Short answer: Yes they do! Now, I will be the first to admit I was nervous about this salon. Full transparency- there was no way I was letting them touch my coarse curly hair. It takes me a good hour to straighten my hair for length checks, so I definitely was sketchy on a stylist who may not have experience with coarse curly #blackgirlmagic hair. I shared my concerns with one of the front of house staff and she got me together honey! I was happily informed that each stylist trains on ALL hair types and there were people of color on staff! Armed with this new knowledge, I scheduled an appointment for my daughter who is biracial with a head full of curls. I figured if they could smooth her hair out, I might give them a try at a later date. Here's a before photo of her curly locks.
The Experience
From the moment she stepped in the door, we were pampered. I was offered a mimosa while Olivia helped herself to yellow macaroons and water. The bright and cheery atmosphere is contagious. You cannot be upset in this salon! When it was our turn to sit in the chair, Olivia was quickly swept away to the shampoo bowls where she received a light head massage while having her hair conditioned. I cannot say enough about the staff at DryBar Indy. We loved them! Here's a sneak peak into her day. Note the products pictured, as I was told by her stylist they were a non-negotiable for curly hair during blowouts. I linked them at the bottom of the post!
The After
I was so nervous taking my daughter in for her FIRST EVER salon experience, but she absolutely loved it! Her stylist was so attentive to her and walked her through the entire process. He wasn't afraid of her hair AT ALL. Being the little Diva that she is, this was definitely feeling herself with this new do. When we left she turned around and told the team, '"I just love this place!" Take a look at these after photos. She's stunning. I'm biased, I know.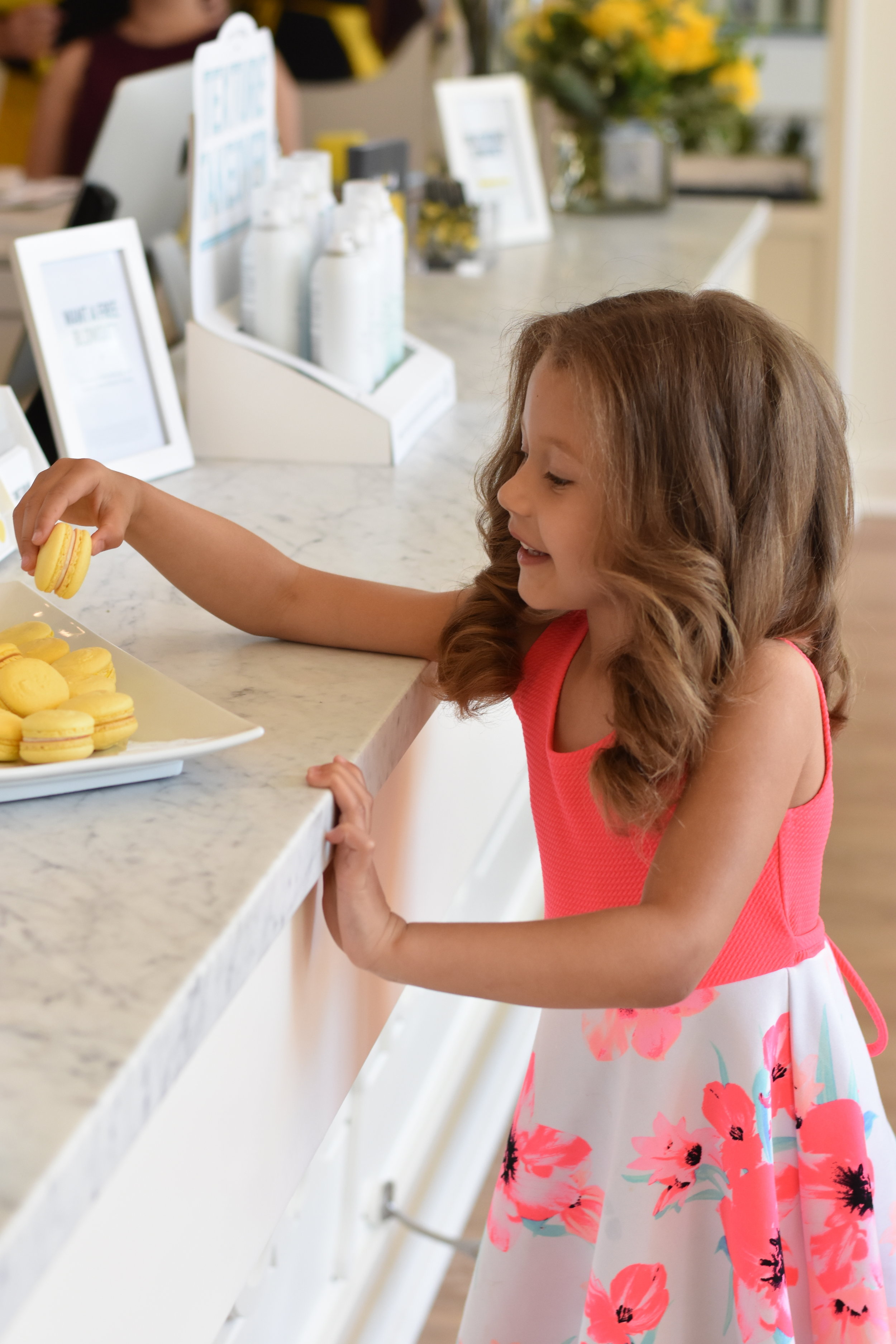 This will be a fashion bloggers heaven! We ran into one of my blogger babes Steph of Trendy in Indy while she was getting a blowout as well! Olivia had to get a picture with her! Psst....she told me Steph reminded her of Ariel xo.
What are you waiting for? Schedule your next DryBar appointment TODAY! I added the number below :).
Interested in learning more about their products? I highly recommend the Hot Toddy and Velvet Hammer. Shop those products and more I rounded up for you below!
Enjoy Today!
xo-Sierra
Address: 8691 River Crossing Blvd, Indianapolis, IN 46240| PH: 317.682.1661