How I keep My Beauty Routine Classy: Introducing the *Make it Classy* DIY Box!
This is a sponsored post for MakeItClassyDIY. All opinions, experiences and images are my own.
Get out there and smell the roses girl! Spring is out and in full effect! I love seeing all of the trees and flowers bloom this time of year. Spring has always been a sign of rebirth and renewal for me, making it the perfect time to try out a new beauty routine. When my friend and fellow #bossbabe Victoria Davis of ClassyCurlies.com launched her newest passion, a DIY beauty box that is totally plant-based, I knew I had to give it a try. Victoria sent over one of her two newest products: Romantic Rosie: DIY Lavendar Rosewater.
Initial Reaction: I wasn't sure what to expect. This was my first DIY beauty box, and honestly, I don't trust everything out there in my hair on on my body. Like I mentioned above, the difference maker for me was that this product was plant-based. I was intrigued. Nervous…but intrigued. So I followed my curiosity to this rosewater DIY box. I was excited to see I could use it on my hair, body and in a bath. I knew I was in good hands because Victoria provides a step-by-step tutorial on an enclosed card AND you have the option to scan her QR code for a video tutorial, which we will touch base on below. Basically, there was no way I was going to be able to mess this up . It's a (mostly) fool proof process. I say mostly because I spilled a little water during the filtering stage. Total operator error. Nevertheless, I finished with a beautiful product and had to spread the word to…YOU! Yes, you need to listen up loves…this was so much fun and totally worth $42. And here's why…
Everything You Need is in the DIY Box
It was so great to open this box and see all of the ingredients I would need for this DIY rosewater project.
What's Included:
Dried Rose Petals ,Lavender Essential Oil, Steeping Jar, Rosewater Jar, Cheesecloth and a rubber band for filtering, a funnel, and all of the tutorials you will ever need to knock this out of the park. Seriously, all you need is water. Make it Classy DIY has thought of it all!
What You Need to Do:
Follow the Instructions Victoria has created for your DIY box. Get ready to use your smart phone and scan the included QR code for access to the video tutorial! What an awesome and innovative way to get you up to speed on all things Make It Classy DIY right there in your own home. You'll be a beauty expert in no time!
My Best Practices While You're Creating Your Rosewater
1) Your instructions will tell you to use warm water during the steeping process and to let it steep for at least 15 minutes. I let mine go a full 30 minutes to extract everything I could from those roses. I'd telling you to leave it a little longer than 15 minutes. You won't regret it. My rosewater smells heavenly!
2) Speaking of steeping…since you are using a mug, do your pouring over the sink. I had all of my ingredients out on a table and thought I was ready to kill this until I spilled water everywhere. Save yourself a trip to the laundry room to grab a towel and just hang out by the sink for a few minutes. Do this same process when you are filtering the rosewater into it's final bottle. The sink is your friend!
3) A little bit of lavender essential oil goes a long way. Add a little bit at a time until you;ve reached your desired aroma.
4) Hey Momma- grab your little girl and make this with her. It's such a fun activity and perfect for bonding with your little flower!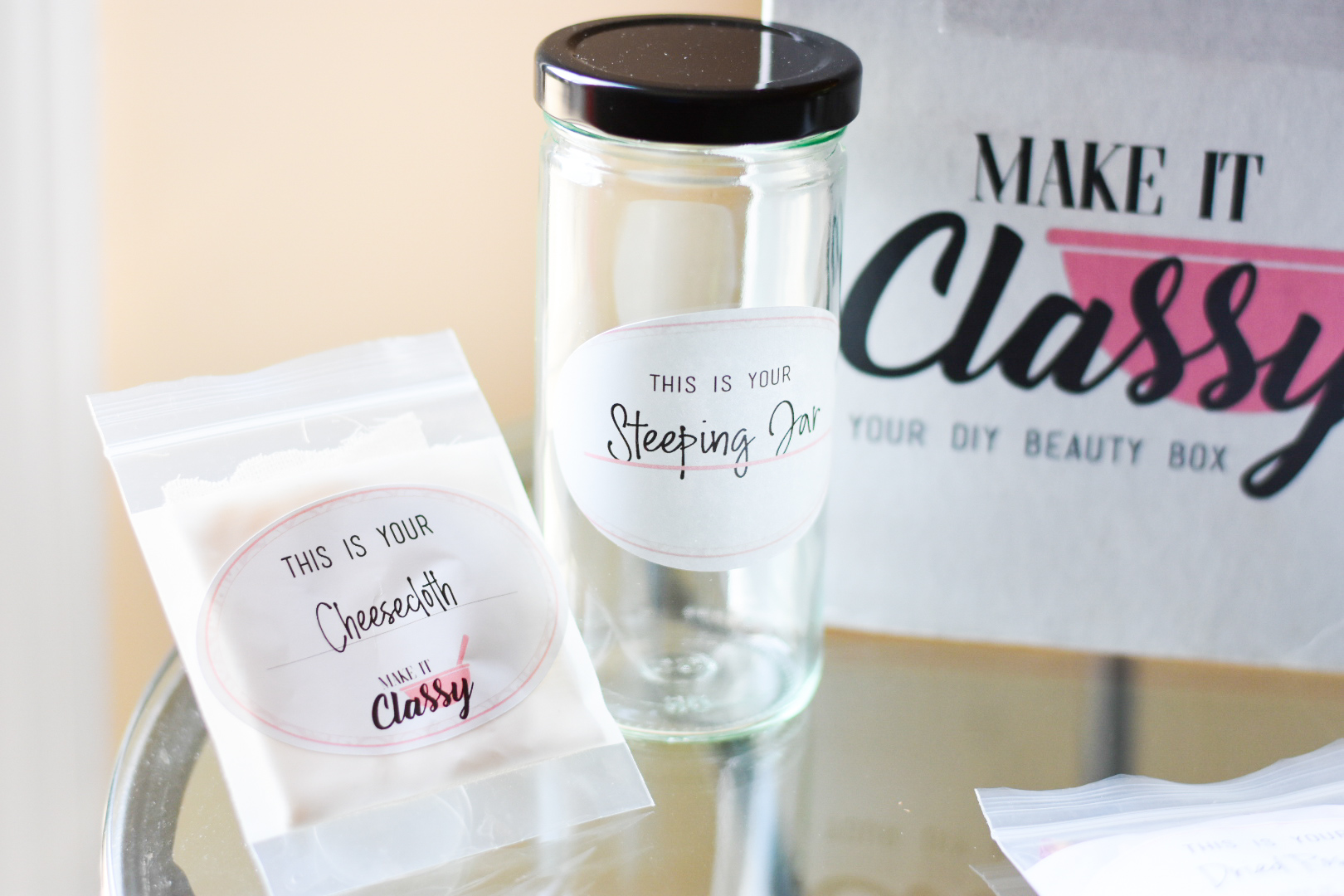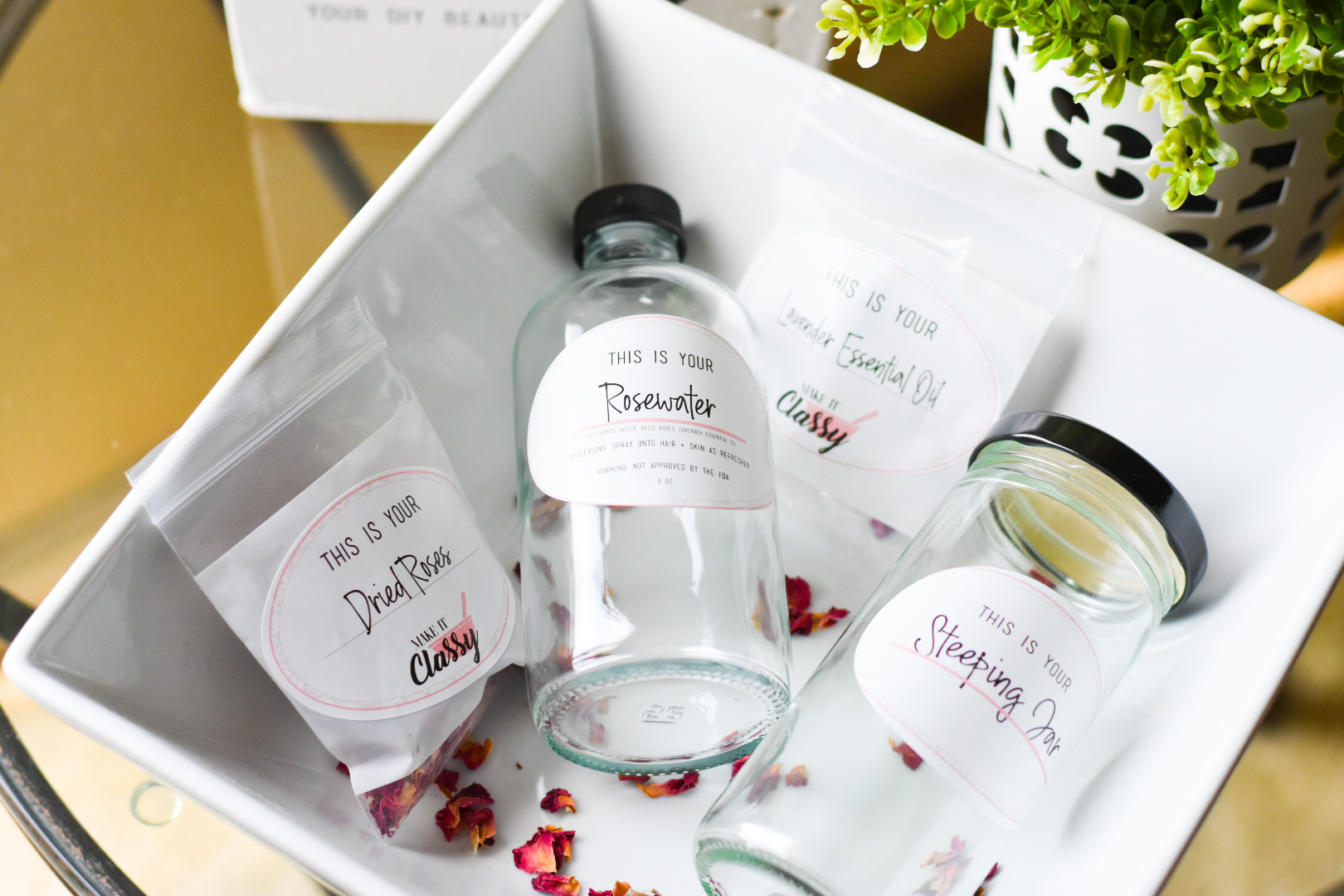 Quality and Quantity
From the moment you open the box, you are greeted wit the pleasant aroma of lavender and roses. Talk about a mood lifter! I was immediately excited to try this out. As I sifted through the packaging, I noticed the info card giving me all of the details about the box. One very important detail stood out to me (and my wallet): there are enough rose petals and lavender oil to make 2 bottles of the rosewater! I love that I can try this more than once with the same box! Who doesn't love getting the full bang for their buck!?
THE FINISHED PRODUCT: Here's what it looks like when it's all finished. Beautiful flower bush not included :). Trust me, it smells even better than it looks. I sprayed some on my hair as I ran out to work this morning. Just enough lavender to sooth me and help me start my say off right. Best of all- I MADE IT!
Grab your first box over on the MakeItClassyDIY page. I know it won't be your last!