An Epic Birthday Party with Goldfish Swim School
This is a sponsored post by Goldfish Swim School. All opinions are my own.
Even though October is one of our favorite months (think bonfires and pumpkins), it still isn't the best time of the year to want a swim party for your birthday. Now, birthdaya are everything in the Holmes household, so if making them epic meant having a swim party, I had to figure it out. Luckily, Goldfish Swim School has birthday party options all year round! We were so excited to let our daughter know she would bring in her big "whole hand" birthday swimming with friends…in October! We shut down Goldfish for a couple of hours to throw an EPIC birthday party, and I have zero regrets! I mean, look at this face.
You get the entire facility to yourself! Talk about VIP status! Sound to good to be true? Here's a list of everything that's covered:
Invitations with a map to our facility and matching envelopes
Two hours of private access to the facility

Certified lifeguards on duty to oversee all pool activities

Cupcakes and beverages for the children

Centerpieces, balloons and tropical decorations

Forks, napkins, cups, plates and table coverings
What To Bring
The great thing about having your birthday party at Goldfish Swim School is they do EVERYTHING. You only need to bring your towel, dry clothes and of course…..a swimsuit! Really…that's it!
IF YOU WANT TO ORDER FOOD outside of the cupcakes (included), they can do that for you too! Just tell your party host and they will place a pizza order for you at a great deal. The Carmel, IN location has partnered with HotBox pizza, so you pay less than $10 for a large pie! That's a deal with several super hungry swimmers. Do yourself a favor and order it…leave it all to them!
The Goldfish team will take your child and their guests through a quick water safety session. This includes testing each child to make sure they have life vests if needed (there is no need to bring your own). Once tested and vested, your kiddos are free to open swim! Now for the best part: they give you free reign of the pool toys! Mats, floating canoes, floating bikes and more! The kids LOVE having so many options in the pool.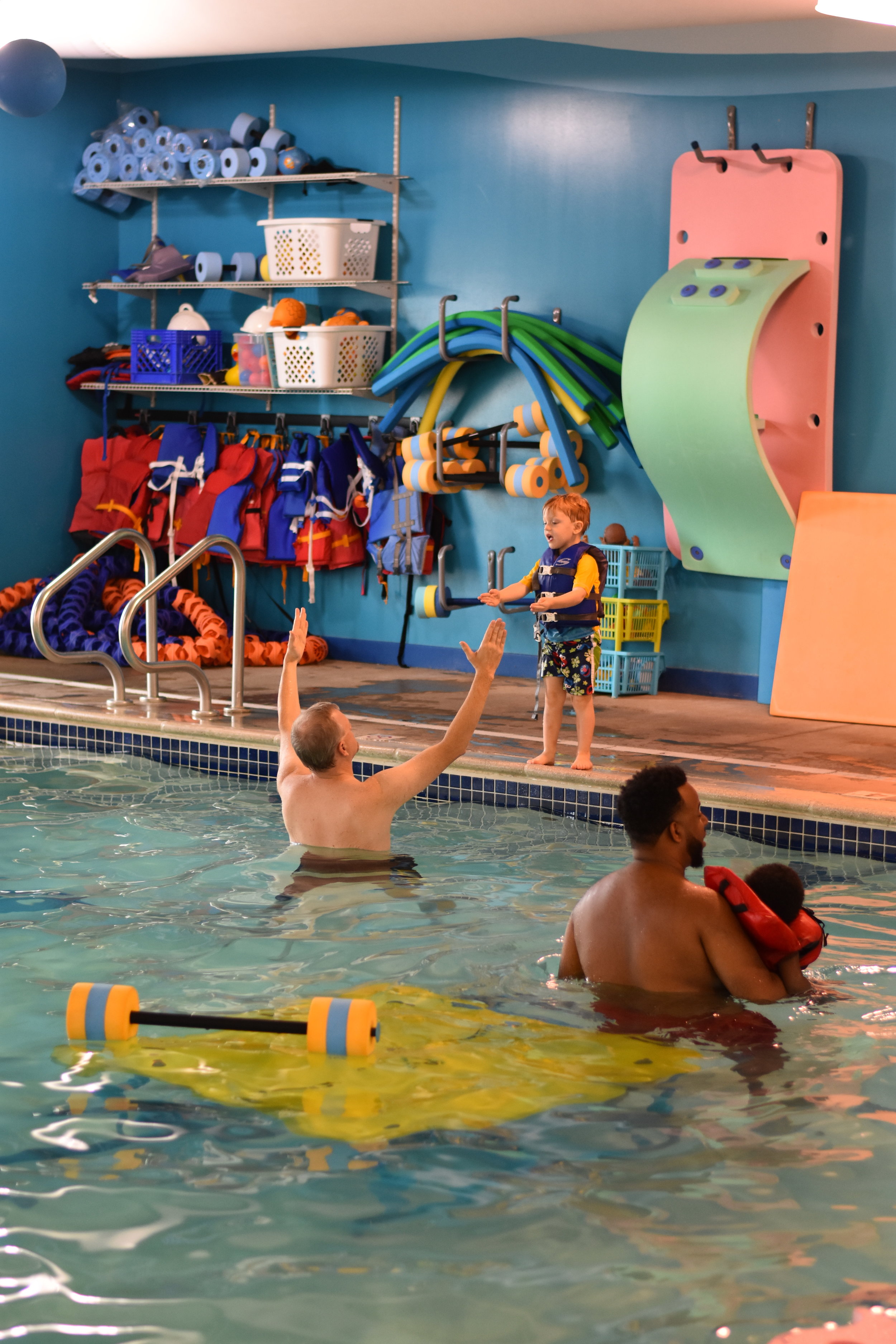 About an hour after swimming, the kids will be ready for party grub! We opted for pizza (ordered by Goldfish) and I brought veggies from my latest Imperfect Produce box. The kids had a choice of a pink or blue cupcake, also provided by Goldfish. This Mom was in heaven having other people step in to help! All the fun and none of the stress!
Consider Goldfish Swim School for your next Epic swim party. You won't be disappointed! Thanks to the amazing staff and our wonderful friends for coming out and celebrating with our daughter, Olivia!
Want more cuteness overload? Take a look at Olivia and her besties having a full on rock concert in the mirror. Enjoy Today! xo-Sierra