Date Night Ideas in Hamilton County
This post is sponsored by Visit Hamilton County, however all opinions are my own.
11 years. That's how long I've been married to my husband J. Over the years, we've added a couple of kids and heavy workloads, making date nights farther in between. We've always loved celebrating our Anniversary, so when we had the opportunity to step out for the weekend without the kiddos, we jumped on it. The catch: we only had 24 hours, so we needed to make it count. Our friends over at Visit Hamilton County knew exactly where we needed to stay, what we needed to do and where we needed yo eat to make the most of the experience.
ACCOMMODATIONS
With only 24 hours, we made it a stay-cation. Wanting to forego a traditional hotel room, we opted for a bed and breakfast. Chances are if you live in Hamilton County, and you know about Conner Prairie, you have driven by this gem and though it was a part of the CP grounds. We were surprised to find out it wasn't! The Prairie Guest House is absolutely charming, independent B&B ran by the sweetest innkeepers, John and Karen Newton . The mid-1800's Gothic farmhouse is designed to transport you into a space where TV and phones are an afterthought. We stayed in "The Courtney", which is the smallest of the rooms on the property. It was intimate and the perfect setting for reconnecting with your loved one. There's even a yoga studio on site! Honestly, there's no better place in Hamilton County to "unplug" and unwind.
BREAKFAST
Right across from the main house is an adorable early 1900's cottage for dining. We strolled into breakfast after a great night relaxed….and in casual clothes. Some people were in their pajamas. This is a fuss-free environment. It was refreshing really. The breakfast itself is home cooked and the menu changes all the time.
What To Do
Board and Brush, 100 N Union Street, Westfield, IN 46074
Now I love a good date night craft project as much as the next person, but when you've been together for 15 years, you've done a lot of them. We've got SEVERAL vases and ceramic plaques we've created together, so this year I wanted to do something different. I paint like a 5-year-old and my hubby isn't exactly Rembrandt either, so we were intrigued by Board and Brush, a DIY wood sign workshop located in Westfield, Indiana. The concept of DIY wood work made my husband's heart sing. Ladies, From sanding to staining and finally painting, you do it all . We chose to make a clock and a cute Mr. and Mrs. wood plaque. Pro Tip-it takes around 3 hours to complete this DIY project, so plan accordingly. The good news is there are SEVERAL snack and drink options while you are waiting on the paint to dry on your work of art. We loved our finished project, don't you?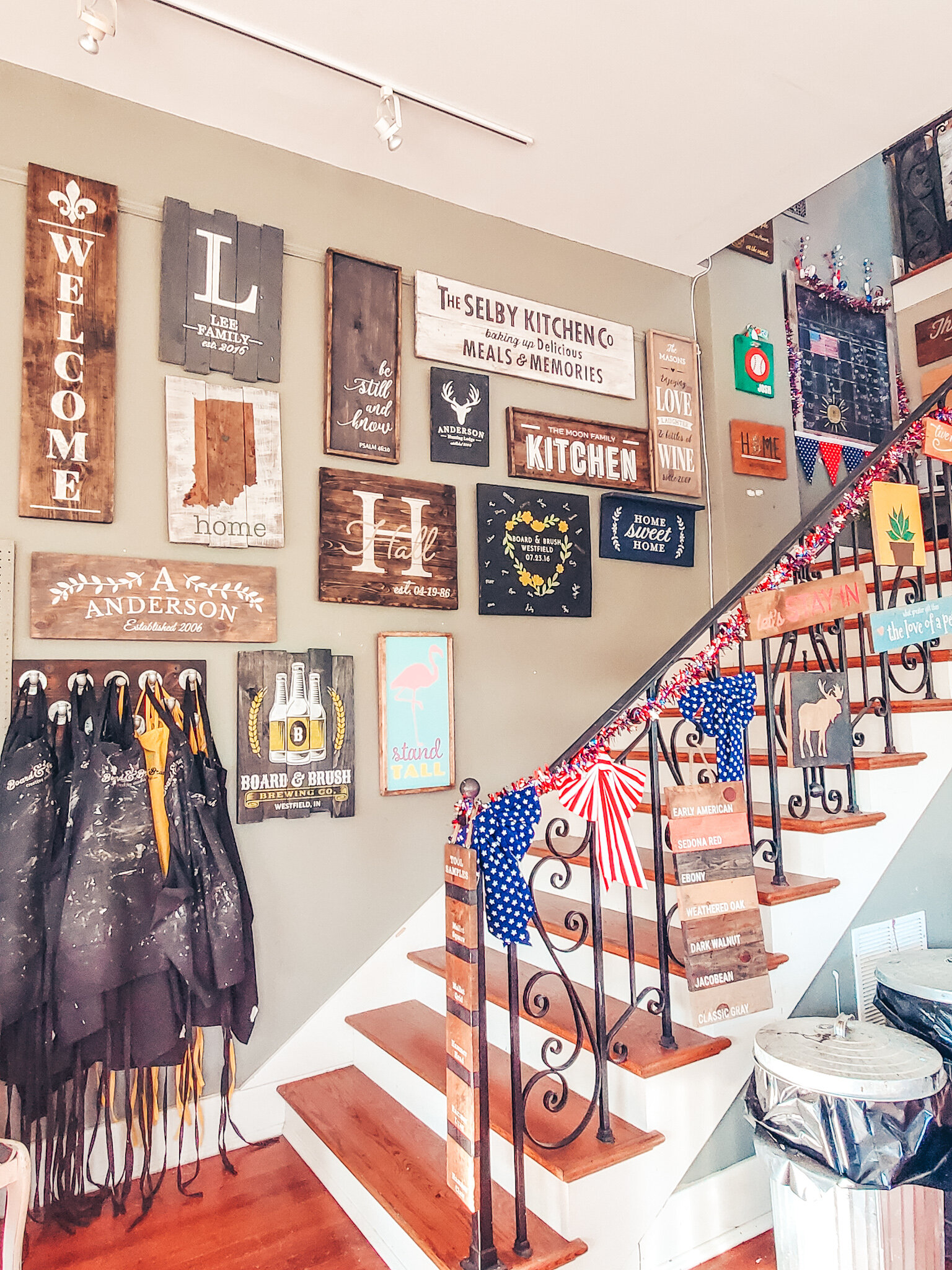 Where To Eat
Italian House, 219 Park St #9407, Westfield, IN 46074
I have two words for you: vodka sauce. The vodka sauce at the Italian House is life-changing and to be honest, we didn't know what we were getting ourselves into. When you walk up to the Italian House, it looks just like a house, but what you can't see is the years of experience perfecting signature recipes. Like the famous vodka sauce I'm sure I've sold you on by now, the Steak alla Florentine and lasagna are just as delicious. Grab a glass of red wine and have a seat in the back patio where they have live music on Fridays and Saturdays during the Summer. Not a wine fan? I ordered a Moscow Mule and it was just perfect.
What recommendations do you have for the ultimate date night in Hamilton County? Tell me in the comments!
Enjoy Today!
xo-Sierra