Things To Do in Indy: Celebration Crossing
Once again, the time has come for us to "deck the halls" and sing catchy Christmas songs as we wait for the first snow fall. I love Christmas and look forward to all of the amazing events and entertainment Indy has to offer during this time of year. Though we have traditions we do every year, we try to find something new to get us in the holiday spirit. This year we visited the Indiana State Museum for Celebration Crossing; a holiday tradition we had heard nothing but great things about. So off we went to check this place out.
VISIT SANTA at the INDIANA STATE MUSEUM
ON FRIDAY, NOVEMBER 23rd: To open Celebration Crossing, we went to see Santa land in a helicopter before taking a seat in his workshop. I mean, how cool is that? Santa definitely wasn't that cool when I was a kid, but I digress. Once settled in his workshop, he awaits hundreds of little boys and girls with eyes filled of magic and wonder, two of which were my own. I couldn't believe we had never made it down to the ISM to see Santa, so we were so excited when the museum invited us to come out as their guests this year. The kids always want to see Santa ahead of Christmas just to make sure he gets their lists just right (smart kiddos). As a parent with 100 things on her to-do list DAILY, it was nice to check Santa off so early in the season. We even got to hang out with Mrs. Claus, which was an added bonus.
For those of you who do not read 5 year old English: Olivia's note to Santa says, " I want an l.o.l. bed set with toys."…..naturally.
Tip: Get in line a couple of hours after Santa arrives. The line was backed up to the ticket booth upon his arrival, but fizzled out as families made their way to the other exhibits.
RIDE THE SANTA CLAUS EXPRESS
This is really the cutest exhibit. The entire space transports you to a different time and place. I picture the 50's or 60's in downtown Indianapolis. There's a nod to the old L.S. Ayres days with figurines that provide a snapshot into the holiday shopping season. The train can fit kids and the kids "at-heart", so grab your ticket and head out on an adventure! The best part: the train ride is included in your price of admission, so ride it as many times as you want! All aboard the Santa Claus Express!
Have lunch in the L. S. Ayres Tea Room
So, I have wanted to have lunch in this place for as long as I can remember. A fun fact about me is that I use to work for L.S. Ayres right out of high school, so it will forever hold a special place in my heart. The minute we walked into the tea room I was in love. The room is filled with beautiful chandeliers and holiday decor. It's a replica of the tea room from downtown Indy until 1990.
We enjoyed the short rib (I highly recommend), the chicken salad and the pot pie. The kids went for a hot dog wrapped in a "knapsack" (bandana (pictured below) and chicken tenders. We were stuffed, but of course we saved room for tea. This is a MUST when visiting the museum. but it fills up quickly, so make reservations before your visit to secure a spot.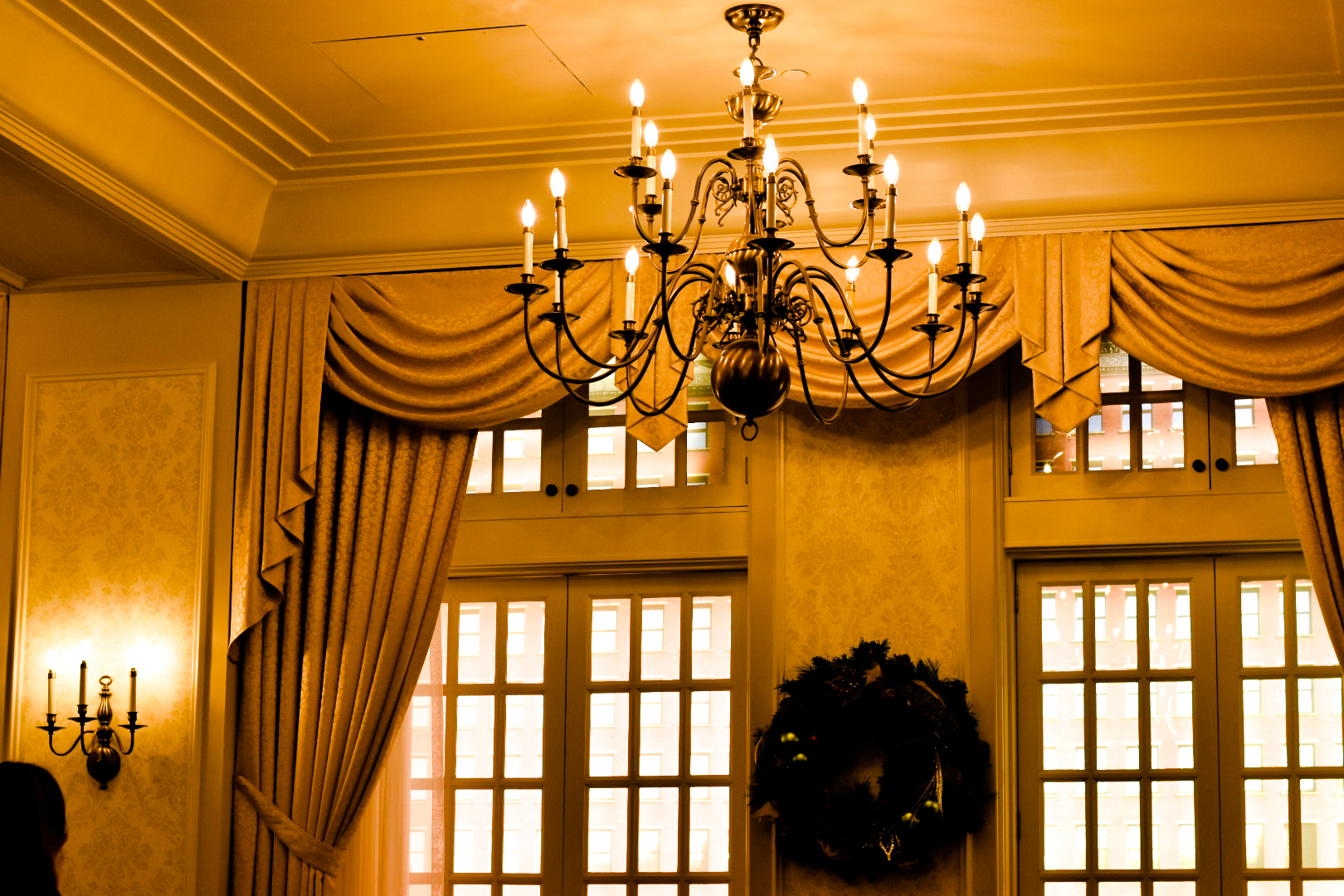 We will definitely be back before the end of the season. Celebration Crossing goes until Jan. 6th, so don't miss this wonderful holiday tradition in Indy!
WANT TO VISIT YOURSELF? Enter to WIN a Family 4-Pack of passes on me! Head over to my facebook page to enter! Winner will be announced 11/29, so hurry!
Enjoy today!
XO- Sierra